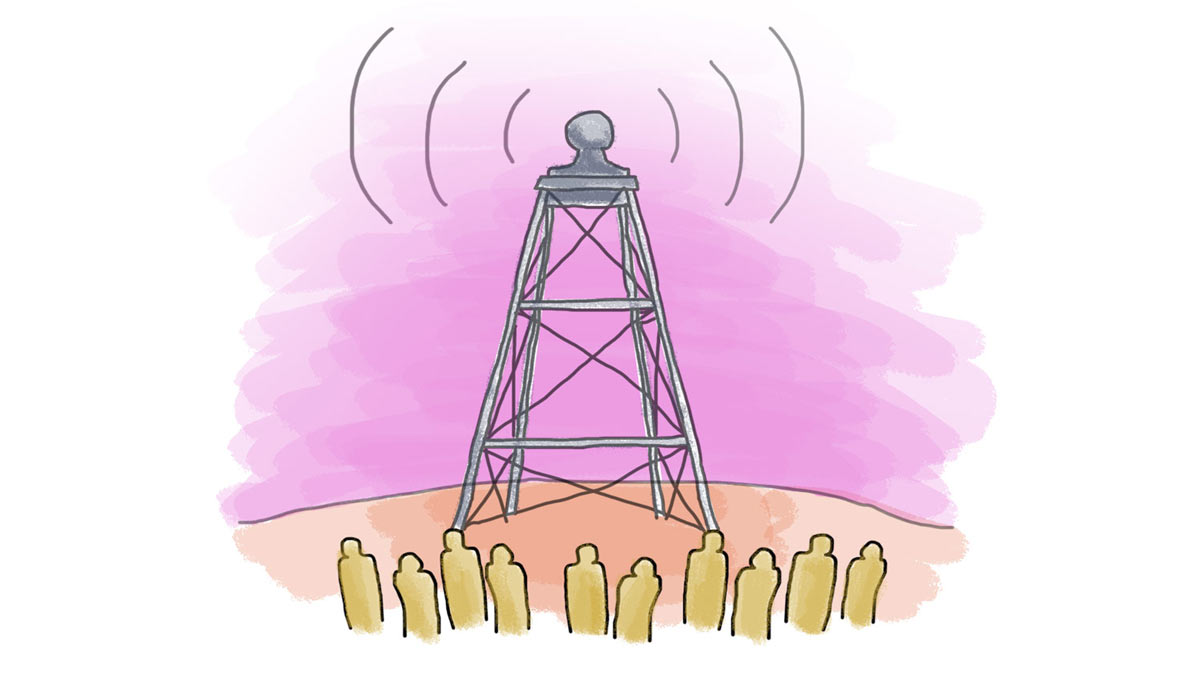 Keyword Research & Analysis For PPC
3.1 How the way we search changed
One of the most important parts of any online marketing campaign is keyword research. If you know who your audience is & how they search for your service, 80% of your work is done.
Together with Google's continual algorithm updates and the technology used to interpret our search results, the way we actually use search has drastically changed.
If in 2006 we used keywords to search for information (like typing in organic juice), now we ask questions and actually talk to the search engine. Our searches now look more like "where can I buy organic juice?"
As it changes, the way to create campaigns and the way we do our research changes too. We don't just target our product's name, but we target people's questions about what we can offer. This will only continue to be important as voice search becomes more common.
The research helps you create useful content for your user, but it also helps you choose the right keywords you need to target for your paid campaigns.
If you're a lawyer with a focus on gender discrimination, you'd probably think about targeting "gender discrimination lawyer", but what you should actually target are searches like: "i got fired for being pregnant".
3.2 Where to start with research
We'll use Anya's Organics campaign as an example. So, we're a creating a campaign for a website that sells different types of organic juices.
Since Anya's Organic is a small company just now entering the world of PPC, our initial budget is $1,500 per month, targeting the United States. The juices on the website are separated into a few categories: Cleanse Packs, Cold Pressed Juices, Organic Soft Drinks and Organic Kombucha.
Before we start researching the keywords, we want to have a better understanding of our audience. Who are buying these products? What else are they interested in? Where do we find these people hanging out? And very importantly, what is the reason behind them buying this product?
Before you start, create a document with your main products (category) and a column for all negative keywords you can find. Ours would look like this:
| | | | | |
| --- | --- | --- | --- | --- |
| Cleanse Packs | Cold Pressed Juices | Organic Soft Drinks | Organic Kombucha | Negatives |
| | | | | |
| | | | | |
The list will be updated and changed during the research process.
3.3 Tools & Techniques
Google Keyword Planner
The first tool everyone uses in making an Google Ads campaign is the Google Keyword Planner. It's totally free. Just make sure you use it in an active account with payment details already set up, otherwise the suggestions you'll get will be very broad. You can find the tool in your Google Ads account.

The Keyword Planner is a very good way to start your research. It helps get ideas on how users search and gives you some phrasing variations that you might not have thought about. It also can be a good resource for negative keywords. Let's start with researching how people are searching for "Cold Pressed Juices":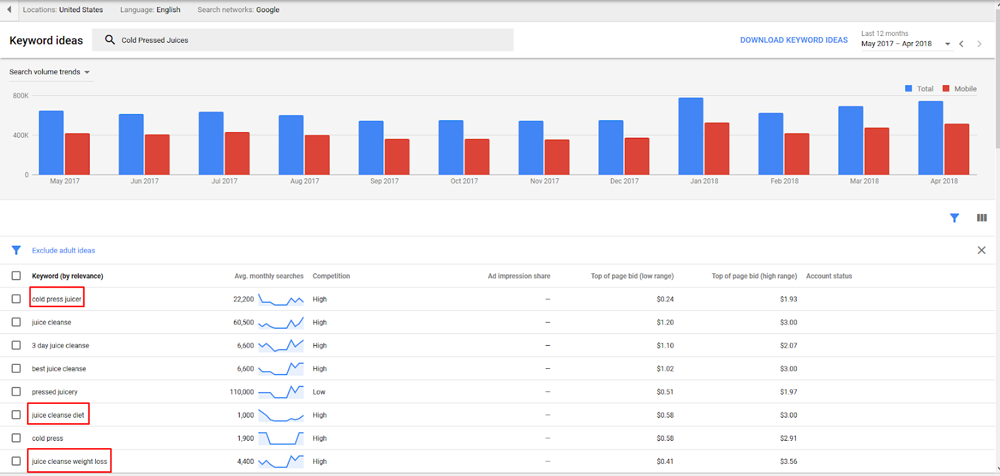 In the example above, we find that some users search for "cold press juicer". As we are selling juices, not machines, we don't want to appear for anyone searching for "juicers" so it goes to our Negative Keywords column.
"Juice cleanse diet" and "juice cleanse weight loss" are good keywords, but users might be more interested in information rather than buying a specific product. So the conversion rate will be lower for those searches. If we have a bigger budget, we might want to create a separate ad group for those so we can track the performance separately and limit the budget for it. But for now, we'll wait since those searches seem like they're from people looking for education rather than purchasing.
We also notice that users are searching for "3 day juice cleanse", Make sure you have a specific product for this, and add these keywords to the Juice Cleanse ad group.
From just one search, we've added this to our list:
| | | | | | |
| --- | --- | --- | --- | --- | --- |
| Cleanse Packs | Juice Cleanse Diet (maybe) | Cold Pressed Juices | Organic Soft Drinks | Organic Kombucha | Negatives |
| 3 day juice cleanse | juice cleanse diet | | | | juicer |
| juice cleanse | juice cleanse weight loss | | | | |
| best juice cleanse | | | | | |
Once you've got your ideas in the Keywords Planner, Google them!
The first thing to use is Google Auto Suggest. It's a great place to search for inspiration and to see what people are searching for. If you're searching for ideas, use an asterisk to get ideas for unknown or variable words:

Or just use a letter:

Add every letter from the alphabet at the end of the keywords you are researching:

Now, we have even more info to add to our sheet. We know that we don't want to appear for "avenue", "vape", "recipes", "whole foods" and all the locations that we are not targeting. But we've learnt some other common words that these organic hippies use. Like "organic fruit juice", "juice cleanse delivery" and more.
By the end of this exercise you'll have an amazing list of negatives (this is very, very important) and different variations on how users search.The second way to use Google is by using the infinite "People Also Ask" boxes for even more ideas.

Even if you cannot use all the suggestions as your keywords, make sure your website answers the main questions users ask. It will help with both your organic traffic and user trust and retention. Once someone clicks on your ad, based on what info they find on your website they'll decide if they can trust you or not,
Bing Keyword Planner
Bing is a thing! And it can give you some additional insights on what you're searching for. You can find it here:

And now you search your product or service. Make sure that you choose your targeting country in the Targeting section if you want to get better suggestions on the volume and suggested bids.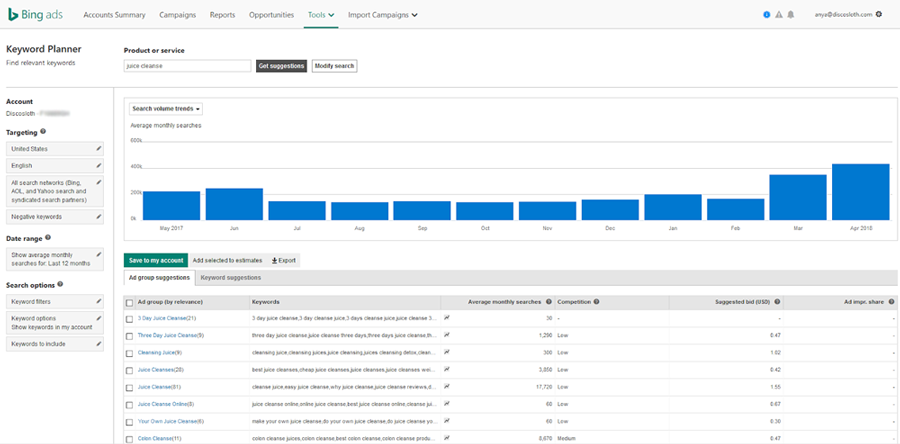 Answer the Public
Answer the Public is a very useful website, and we really like the design (maybe this part isn't helpful for your research…but we still like it a lot). As they say "Enter your keyword & he'll suggest content ideas in seconds." and you'll get something like this: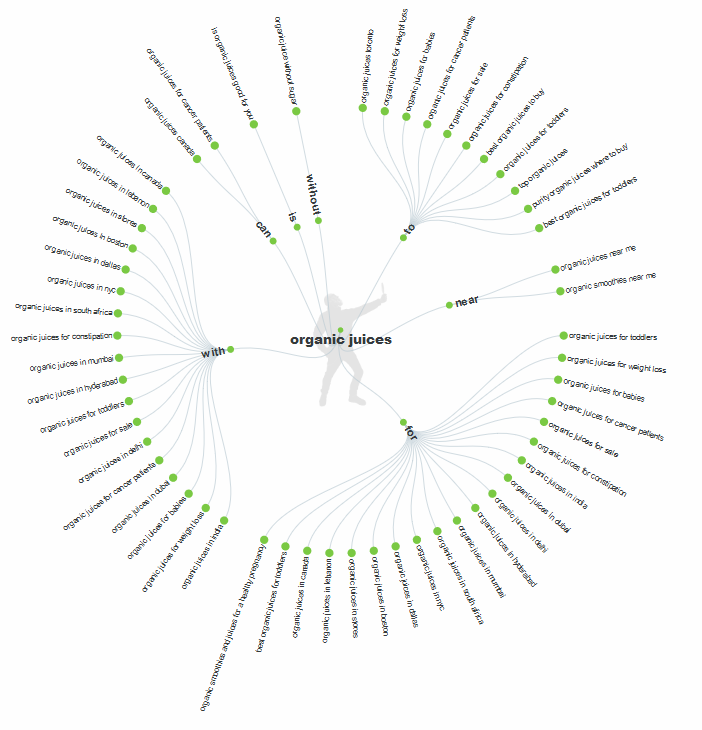 Research your existing audience
If you already have existing traffic, we start with Google Analytics data.
If you go to the Audience tab, you can learn more about your demographics. For example, for Anya's Organic Juices we can see that our main audience are women aged 25-34:

You might have noticed that we see data for 51% of the total audience. The reason for this is that Google Analytics can see demographics only if users have already shared it with them, in their Gmail account for example.
If you don't see this data, make sure you enable the Demographics and Interests reports.
In your Audience tab (Audience > Interests > Overview) you can see what your users are interested in: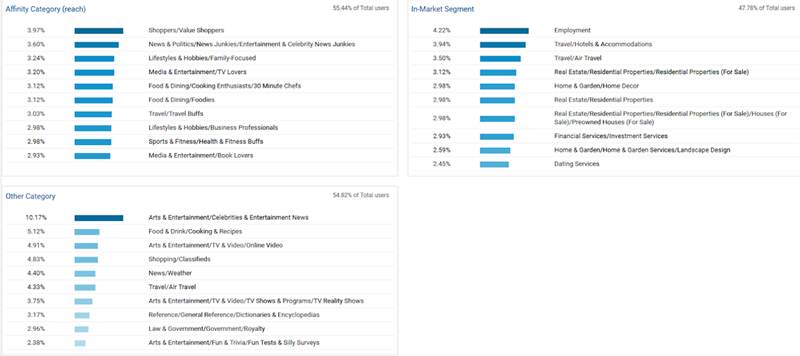 In the same place, you can find info about which devices your users use, their behavior and of course their geolocation.
If your website's main audience are women aged 25-34, it doesn't necessarily mean that they are the best quality audience, and that you want to create campaigns to target them! While this might be the case, you need to look at engagement and conversion rates to see which audience has the best quality.

And here we realize that even though women aged 25-34 are the most common visitors, they're not the most profitable visitors. We actually want to target women aged 35 – 54, as they are far more likely to purchase your product.
Keep in mind that this data is informational, you should not base your decision on that only as it might show you only half of the picture
Google Search Console
Google Search Console is a tool used to track your organic searches. If you have it linked to your Google Analytics account, then you can see the results directly there.
If you don't have Google Search Console, integrate it with your site and wait for a few days (or weeks, months) to gather enough data from your organic performance. Your data will look like this: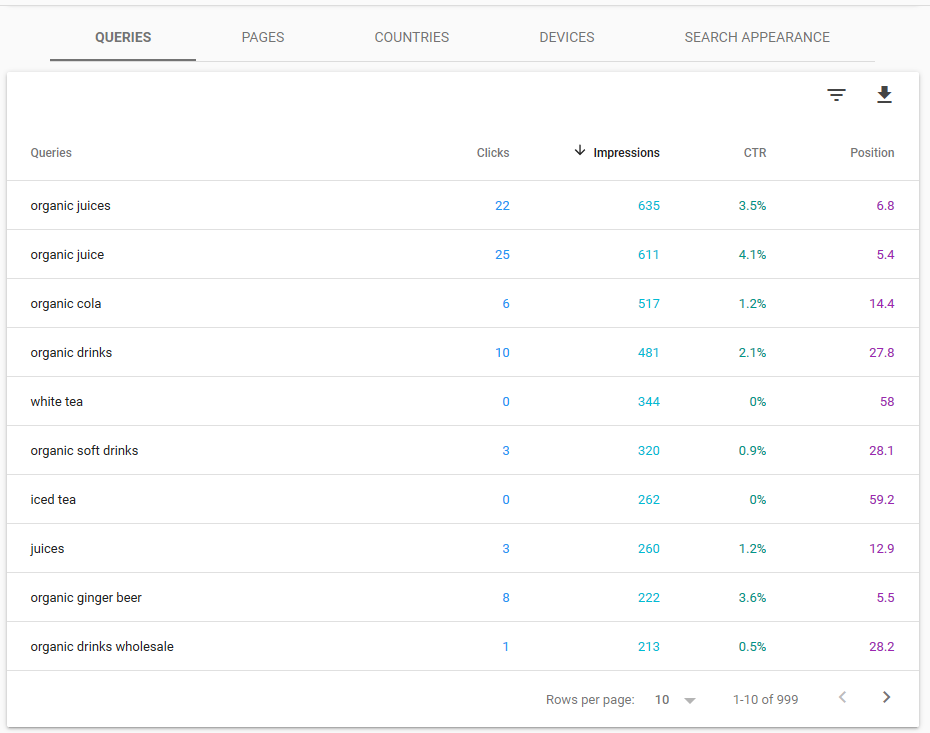 You might want to look at the searches which have a poor ranking position and a good number of impressions. These are likely the best bets for you to go for.
Bing Webmaster Tools
The same thing is available in Bing Webmaster Tools.

Google Analytics Site Search
If your website has a search option like this, you can see what people searched for in your Analytics account. Based on this data, you'll be able to see how people search and what they need from you. Use this to discover what problems your audience is trying to solve. When you've found these problems, tailor your ads to help solve their problems!

If you don't have a Google Analytics account, you can create one on the Analytics site. If you don't see any data in the Search Terms tab, make sure you've enabled the tracking of this data.
There many other tools that can be used, and some of them are free like the ones shown above. You can also use paid tools (like Moz Keyword Explorer or SEMRush) and you can always get creative!
But back to Anya's Organics campaign. We're using all these tools to fill in our keywords list. In the end, when we've collected all search variations we'll have something like this:
| | | | | | | | |
| --- | --- | --- | --- | --- | --- | --- | --- |
| Detox Juice | Juice Cleanse | x Day Juice Cleanse | Organic Juices | Organic Soft Drinks | Organic Kombucha | Pressed Juice | Negatives |
| cold pressed detox juice | cold pressed juice cleanse | 2 day juice cleanse | cold pressed organic juices | cold pressed Soft Drinks | cold pressed Organic Kombucha | Organic pressed juice | juicer |
| detox juice california | juice cleanse california | 3 day juice cleanse | Organic juices california | Organic Soft Drinks california | Organic Kombucha california | Pressed Juice california | vipe |
| Organic detox juice | Organic juice cleanse | 5 day juice cleanse | Organic juices delivery | Organic Soft Drinks delivery | Organic Kombucha delivery | Pressed Juice detox | recipes |
| detox juice delivery | juice cleanse delivery> | 7 day juice cleanse | Organic juices online | Organic Soft Drinks online | Organic Kombucha online | Pressed Juice delivery | whole foods |
| detox juice online | juice cleanse online | 2 day juice detox | order Organic juices | order Organic Soft Drinks | order Organic Kombucha | Pressed Juice online | dispenser |
| order detox juice | order juice cleanse | 3 day juice detox | buy Organic juices | buy Organic Soft Drinks | buy Organic Kombucha | order Pressed Juice | jobs |
| buy detox juice | buy juice cleanse | 5 day juice detox | Best Organic juices | Best Organic Soft Drinks | Best Organic Kombucha | buy Pressed Juice | machine |
| Best detox juice | Best juice cleanse | 7 day juice detox | | | | Best Pressed Juice | wine |
Once we have this ready, we can start setting up our campaign.