In 2018, we onboarded a client that sold high-end audio equipment & home cinema systems.
This luxury market was booming, and the client wanted to gain more sales and revenue via Google Ads. They were currently running ads, but they weren't well optimized, and the previous agency had used a SKAG (single keyword ad group) approach to set up the campaigns.
The website was brand new, and most of the client's sales came from their luxury audio showroom, but they wanted to increase online sales.
Upon looking at the accounts, we realized that there were far too many campaigns and ad groups for the client's budget, which was very small.
They did not have conversion tracking set up (so they were unable to attribute sales to CPC channels) and were getting around 1,315 visits per month, for Feb 3 through Mar 3, 2018: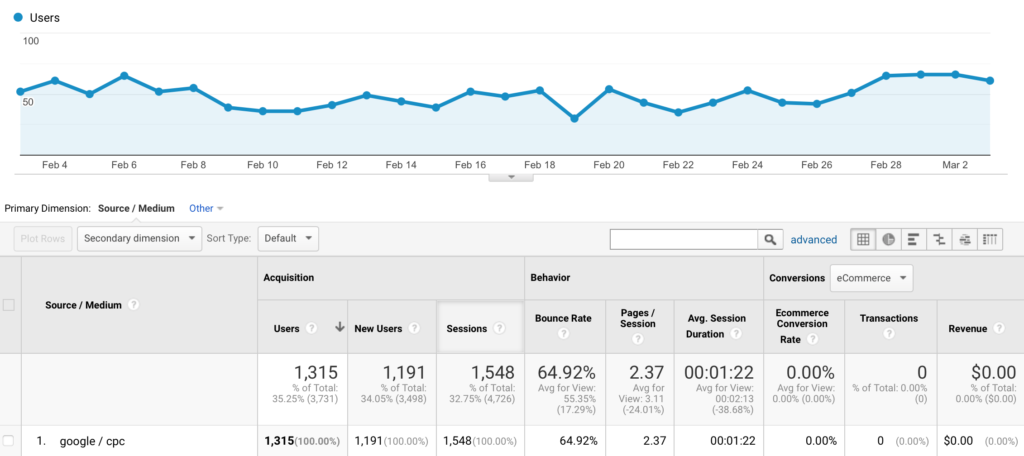 Since they didn't have conversion tracking, we weren't able to gauge sales unless we dug into their website's backend. They were spending around $1k/mo on Google Ads, with an average CPC of $0.64 (they relied heavily on display, which is why the CPC was so low).
Their average online sales were almost nothing (averaging around $2,000/mo, since the e-commerce side of their business was new).

We immediately decided to implement conversion tracking, and making sure that e-commerce conversion goals were running so that we could attribute our performance to our advertising campaigns.
Over the next 3 years, we steadily improved the campaigns. We followed a few simple steps: reducing complexity, paying close attention to manual bids, regularly updating negative keywords, and using conversion data to optimize for the highest-performing ad groups.
Within a year, the client was already seeing a 24x return on Google Ad spend:

In 2021, the client is seeing better than ever results from their Google Ads. They have increased their ad spend and expanded to advertising in more international locations, and are in a period of growth. However, they are still able to get a positive ROI from their ads.
Since we are able to get sales from $20,000 to $30,000/mo from an ad spend of under $5,000/mo, the campaign is profitable and scalable.
We also report on how many customers are asking for driving directions via the ad, since the client's luxury audiophile showroom is an important driver for offline revenue.