Do you want 4 digital marketing books and 2 bags of locally roasted coffee? Of course you do!
We're pumped to partner with @PPCKirk (aka Kirk Williams of ZATO Marketing) to give away a package to five (5) lucky winners.
The loot: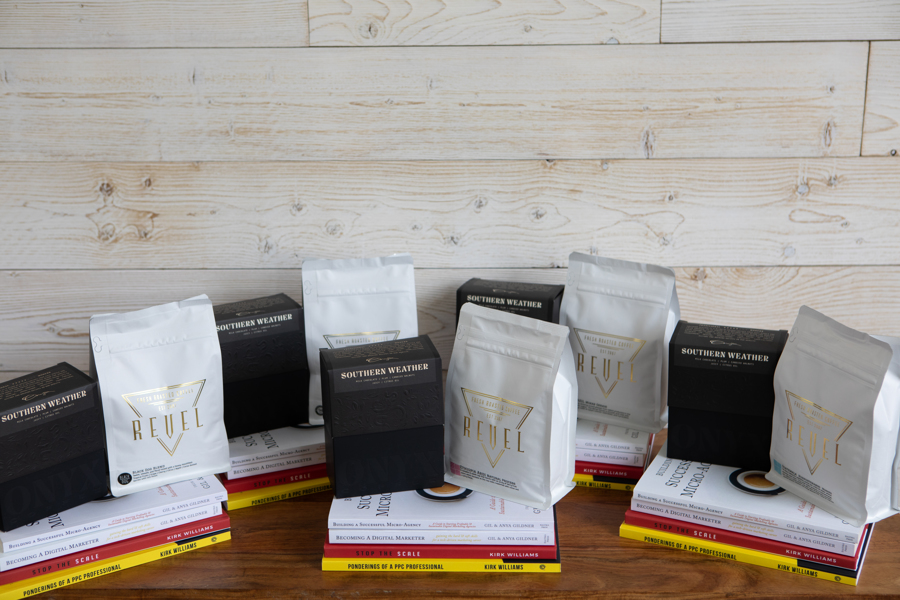 Would you like a bag of Onyx (Rogers, Arkansas), a bag of Revel (Billings, Montana), Ponderings of a PPC Professional and Stop The Scale (Kirk Williams), and Becoming A Digital Marketer and Building A Successful Micro-Agency (Gil & Anya Gildner)?
Who doesn't???
You just need to:
Fill out this short Google Form
Post something anywhere on social media about this contest & link to it in the form above.
Agree to the Contest Rules*
Have a physical mailing address in the US**
This is the timeline:
July 1 – Contest starts!
July 15 – Contest Ends!
July 15-31 – Winners Selected and Notified
Unfortunately, due to shipping complexities, US addresses only.
*Contest Rules: I will not cheat. I understand I must make a social media post about this contest in order to be entered for the chance to win. I will accept the winner choices, as disappointed as I may be. I understand that participating in this contest means I may be used by ZATO and Discosloth for marketing purposes if I win. I understand if I have won, I will be contacted in the email I provide here and if I do not reply within 2 weeks of notification, that I may forfeit my right as contest winner. I acknowledge that in order to win, I must have access to and submit a physical address in the United States of America.
Other things you can do:
Follow r/SearchAdvertising on Reddit.
Follow @PPCKirk or @GilGildner or @AnyaGildner on Twitter
Follow Kirk Williams or Gil Gildner on LinkedIn